Day 1 – Friday, 30 May 2014
Well I've certainly had an eventful (and expensive) couple of days since arriving in the USA, and the Post-Polio Health International (PHI) Conference hasn't even started yet!
I had a very early start to make my 9:15 am flight from Melbourne to Los Angeles but all went without a hitch, and I got a great seat (which I had previously selected online) which was not actually classified as having extra leg room, but considering there was no seat in front of it, I was able to stretch out to my heart's content.
At Melbourne Airport
That's my plane!
What comfort - lots of leg room
My own entry
On my way!
Arriving in LA, I had a 6 hour wait. And that's where all my problems started . . . I had decided to buy a local SIM card for my mobile phone so I could use it without paying a fortune in 'roaming' costs. Anyhow, I bought one that could fit either standard or micro slots depending on how you punch out the plastic card. Somehow I had convinced myself that I had a micro sim card slot, so I punched it out and proceeded to insert it into my phone – and it just kept going and going and going until it was nowhere to be seen . . . Oops, so not a micro SIM card after all. Three deep breaths – wait until I get to St Louis where I'll be sure to find a phone fixer-upper.
Plenty of time to check my email on LAX airport's FREE Wi-Fi (yippee!) on my brand new HP notepad, which I had bought especially for this trip. On the plane, I had been finishing up the next edition of "Polio Oz News", so the battery was running a bit low, and my power converter was safely tucked away in my luggage, which was on its way to my connecting flight – of course! However, I thought I'd soldier on until the battery ran out. But a hacker beat the battery and crashed my hard drive – not that I knew it at the time. All I knew was that I was in the middle of responding to emails and sending off my newsletter to Gillian for editing, when everything died.
By the time I reached the hotel in St Louis, I had two major technical issues to sort out, and I also discovered I couldn't get into my Hotmail account. So no way to communicate with the folks back home. In this day and age, that's like having your arms cut off!
The next day the Concierge was able to find me a service called the "Geek Squad", which I had to get to by taxi. The news was not good . . . My HP notebook hard drive was totally fried and to replace it would cost around US$500.00. To buy a new one was actually cheaper, although I had to purchase all the Office software to go with it – which does not include Publisher (the program I use to do my newsletter). But what could I do? They did manage to get the micro sim card out of my phone, though. Then, of course, I had to buy another one . . . And the taxi's waiting . . . Ka-ching! Ka-ching! Oh, and I had to leave it with them until today so they could upload the new software and see if they could retrieve any of the data from the 'old' notebook (they couldn't). Another taxi ride.
Anyway, although I am literally hundreds of dollars poorer, at least I have a working notebook and mobile phone, so I can continue to write my blog as things start happening with the Conference.
While I was waiting to pick up my computer, I did get to have a bit of a walk around the immediate vicinity today. I actually have a view of the landmark St Louis Arch from my hotel room, which is very nice. The weather is quite hot and humid at around 30 degrees. We've had a few heavy showers in between blazing sun, which makes life interesting. I must say that it's lovely and green in St Louis, which was a relief after flying over a lot of very arid land with weird, circular fields dotted across the landscape.
Time to fly to St Louis
A patchwork quilt effect
A breathtaking view
St Louis at last
A room with a view
My conference accommodation
That looks very inviting!
A comfy chair as well
A well equipped bathroom
Another view of the St Louis Arch
St Louis Arch
A St Louis landmark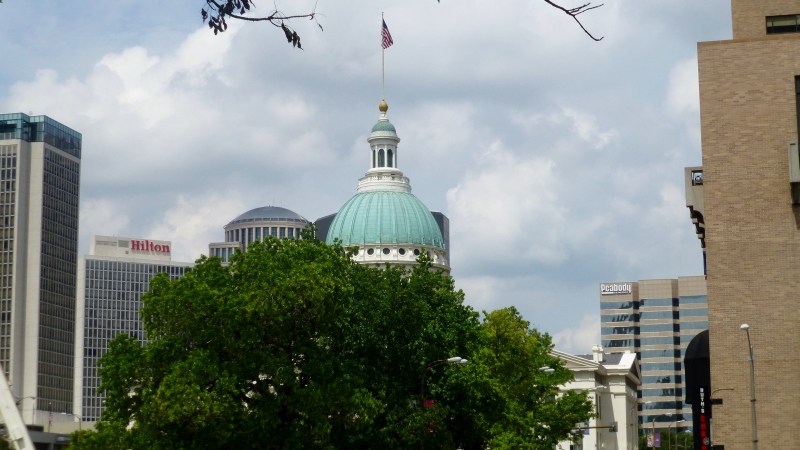 St Louis Arch up close
St Louis Arch even closer!
St Louis Arch - a different perspective
St Louis Riverboats
St Louis parkland
A wonderful setting
There has also been quite a bit of activity with various big league baseball games happening. The taxi driver told me that the Cardinals (local team) are second only to the New York Yankees, who they played a couple of days ago – and lost. Other games are continuing to be played over the weekend, but I don't care enough to find out who they are.
On a bright note, as I was slaving away over the new notebook this afternoon, I received a phone call from Joan Toone, the President of British Columbia's (Canada) post-polio support organisation PPASS BC, who is also here with her husband, Terry, and another Board Member, Janet. I was invited to have a drink with them, which turned into dinner and around 3 hours later, I got back to the room. It was lovely to chat about what our respective services were up to, and to get my mind off all the tech trouble I've been having.
I think you'll agree, it can only get better from here on in, eh? More tomorrow.
Return to Mary-ann's St Louis 2014 Daily Blog overview