Day 2 – Saturday, 31 May 2014
Goodness, gracious me . . . I'm surprised to find that I'm still having trouble with the time difference – St Louis is 15 hours behind Melbourne. You know what it's like – still wide-awake at 4:00 am and scolding yourself because you SHOULD be asleep. Hopefully my body clock will have worked itself out by tonight/tomorrow. Luckily, there was no pressing reason for me to be up-and-at-it today as the Conference Registration opened at 12:00 pm and the Pre-Conference Session wasn't until 3:00 pm.
I was happy to run into Dr Selma Calmes in the hotel's Starbucks (I do need my cappuccino to kick start my day) who was telling me how incredibly busy she's been since she 'retired'. Not only is Selma a delightful woman and polio survivor, she was also a leading anesthetist at UCLA Medical Centre and has written about anesthetics and post-polio, which she will be presenting as an "Update on anesthesia" session on Monday. You can also see Selma talking on the subject at a 2010 Conference held at the Salk Institute here.
I had a brief opportunity to chat with Joan Headley, Director of Post-Polio Health International (PHI), the organisation which is hosting this Conference. I've met Joan a few times now and we have built a warm rapport.
The Pre-Conference session was a good way for the participants to settle into the rhythm that will be set over the next few days of presentations and workshops. After a welcome from William Stothers, PHI's President, and Joan Headley, Dr Fred Maynard presented his review The Late Effects of Polio and Your Health, which was an excellent overview and helped to focus people on the issues.
Pre-Conference Introduction
Pre-Conference Attendees
Dr Fred Maynard
This was followed by the only full participant dinner of the Conference. I was able to renew my acquaintance with Dr Fred Maynard and his wife Kathy, along with Dr William De Mayo and Sunny Roller as we were all sitting at the same table. I first met and interviewed Bill De Mayo in 2008 when I travelled to North America on my Churchill Fellowship. He has been working with polio survivors for many years and will be presenting a number of sessions during the Conference. Fred and Sunny are the instigators of the USA Polio Health and Wellness Retreats and I learned a great deal from them when I attended their Retreat in Warm Springs in 2009. Bill and Fred's wife, Kathy, were also at the Warm Springs Retreat and the PHI Conference that followed. So it was great to catch up, especially as they are all going to be very busy in the coming days.
Drs Fred Maynard (L) and William de Mayo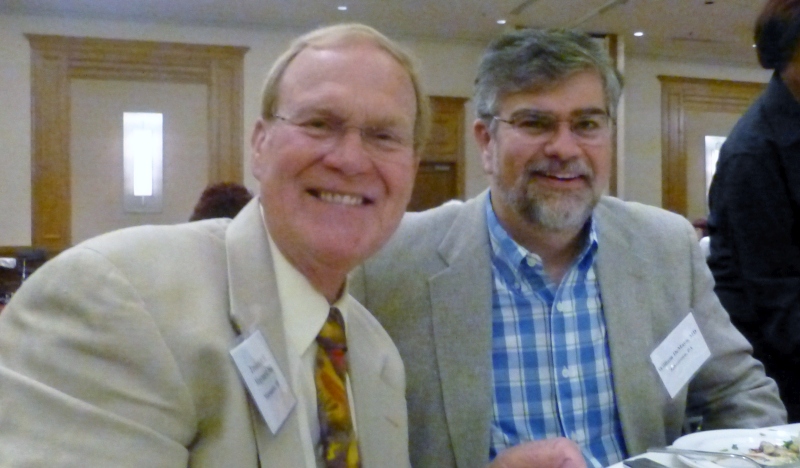 Sunny Roller (L) and Kathy Maynard
Fred and Bill and very keen to visit Australia, and I'm sure our post-polio community would benefit from their extensive experience of post-polio issues. As such, I'm going to have to ramp up the fundraising efforts with a view to making it happen!
Another specialist who would like to visit our wide, brown land is Dr Antonio Toniolo, Professor of Medical Microbiology and Director, Department of Clinical Pathology at the University of Insubria Medical School in Varese, Italy. Antonio is the recipient of this years' PHI Research Grant for his research into the "Detection of persistent polioviruses in patients with the post-polio syndrome", which makes very interesting reading. Antonio will also be presenting at the Conference in Amsterdam.
Dr Antonio Toniolo
Drs Antonio Toniolo (L) and Fred Maynard
Hilary Boone - Polio Survivors' Network, UK
After dinner, we were treated to a performance called "One World" which was a dance/theatre presentation by a variety of artists with a variety of disabilities (the DisAbility Project of That Uppity Theatre Company and Common Threads Dance Company). They ended with an interesting rap message about inclusiveness – very funky!
One World
One World
I was approached by the producer of That Uppity Theatre Company who saw my name tag and – guess what – she, too, would LOVE to come to Australia! Must be all those Aussie actors who are now making it big in the US of A. Of course, there is the distance – Australia's so far away . . .
I probably need to have a good look at my Program now. Tomorrow the Conference starts in earnest and there's so much to see!
Return to Mary-ann's St Louis 2014 Daily Blog overview