You can support Polio Australia's work in other ways, including nominating us as your charity of choice when purchasing goods through participating suppliers. Select the tabs below to find out more, and please contact Polio Australia if you are aware of other options.
Entertainment Book
Polio Australia Pin
Ritchies IGA
Polio Australia is now fundraising with Entertainment Book! You can support us by purchasing an Entertainment Book and also enjoy valuable up to 50% OFF and 2-for-1 offers for many of the best restaurants, cafes, attractions, hotels, travel, shopping and more! Books are available
all throughout Australia, New Zealand and Bali
.
Polio Australia Pins
Polio survivors are everywhere in the community – they may be your mother, grandfather, neighbour, local business owner, friend or colleague.
Polio survivors need your support to help them obtain appropriate services and support.
Polio may be close to worldwide eradication – but the survivors are Still Here.
Purchase a pin to show your support – "We're Still Here!":
$7.50 each or $40 for 10
(Includes postage within Australia)
Click to download the order form [File Size: 240.5 KB]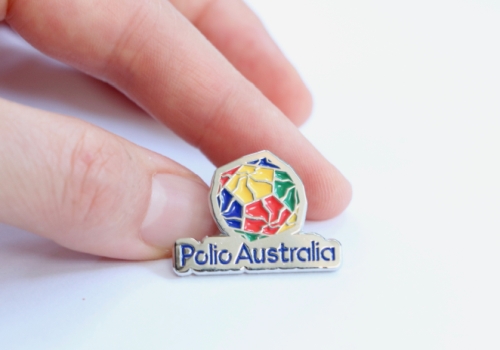 Polio Australia is now fundraising through Ritchies Community Benefit Card Program. This is a completely free program for you to join, and Polio Australia receive 0.5% of the money you spend each shop!
How do I get a card and start supporting Polio Australia?
Ask for your free Ritchies Community Benefit Card at your nearest store.
Enter Polio Australia as the community group that you would like to be the recipient of a donation from Ritchies.
Your Ritchies Community Benefit Card will be issued, and can be used immediately!
Every time you shop you will be asked by one of Ritchies' friendly cashiers to present your Community Benefit Card!
Your card will be scanned at the register, which will automatically allocate 0.5% of the money you spend to Polio Australia.
Thank you for investing in Polio Australia to make a difference – every donation helps polio survivors.